No-Fuss Gutter Cleaning For Jacksonville Homeowners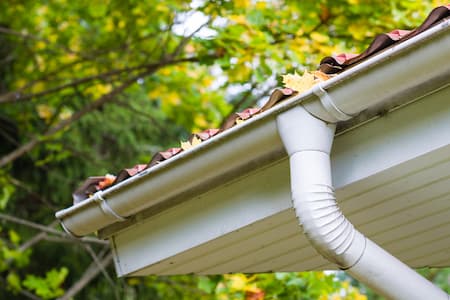 If your gutters are clogged with leaves, dirt, or anything else that makes it difficult to keep them clear of water, you need the professionals at Kirk's Power Pressure Washing in Jacksonville to get them cleared and back up and running in no time. We are equipped to provide expert provided gutter cleaning services to homeowners in Jacksonville who need the job done right. The gutters on your house can quickly get dirty and full of leaves, dust, pollen, animal droppings, seeds, and other debris. This can lead to several problems including:
Damp soil around the foundation

Mold growing in the gutters (which happens more often than you might think)

Gutter leaks, which allow water to go through to the exterior wall or roofing material

Rotting fascia boards (where you'll have rotting wood), rotting soffits, and decaying sheathing boards, which are all expensive repairs
The easiest and most affordable way to keep gutters clean is to have them washed by a gutter cleaning professional. Our pressure washing experts are ready to help you with your home in any way that we can. We will clean your gutters, by removing mold, mildew, and other things that may be growing inside. If your gutters haven't been cleaned for several years, or if you're seeing signs of water damage like bulging exterior siding, cracking stucco, and leaks around windows or doors - then give us a call for gutter cleaning and pressure washing in the Jacksonville area.
Exterior Gutter Washing
Cleaning gutters requires a great deal of time spent on a ladder and may be both tiresome and hazardous. It may seem to be a simple task, but with the help of a skilled expert, it will be done much more quickly, correctly, and successfully. We have the tools and experience necessary to do the job fast and properly. In addition to clearing the gutter trough and downspout, we'll thoroughly clean the gutters to eliminate any materials that might make accumulation worse. Following that, we'll clean the outside of your gutter system, leaving you with lovely, clean, contamination-free gutters.
Exterior gutter washing partnered with roof cleaning is necessary to ensure that your gutters work properly. Water can penetrate your roofing deck over time if your gutters are not maintained, resulting in roof leaks and other problems. Dirty gutters will exploit vulnerabilities in your windows as water flows down the side of your house, creating possible damage. The softening of the earth surrounding your house due to pools of water is the most dangerous threat. If your foundation shifts, it may be the start of a major issue. It's difficult and costly to have your house raised or leveled following foundational movement.
Cleaning your gutters regularly can protect your roof and your house. Call Kirk's Power Pressure Washing for professional gutter cleaning services that take into account both the operation of your gutters and the aesthetic beauty of your home.
Our Gutter Cleaning Projects
Need a Power Washing Expert?


Contact Us Today!
Pressure Washing Tips
How to Clean Vinyl Siding the Right Way

Keeping your house exterior clean brings you peace of mind, maintains curb appeal, and keeps your siding from deteriorating at an accelerated pace. Algae and mildew hold moisture onto your siding and cause it to wear at a quicker rate and keeping these contaminants off your house keeps […]

The Dangers Of Mold On Your Home Or Business

Mold is a living organism that can be found all around us. It can appear on the exterior or interior of your home in many different forms and colors. These different molds have various effects on human health, such as toxic reactions and allergic reactions. Mold […]

Contact Kirk's Power Pressure Washing Today
Call Today For Professional Pressure Washing In Jacksonville And The Surrounding Areas!