Ponte Vedra's Leader In Pressure Washing Services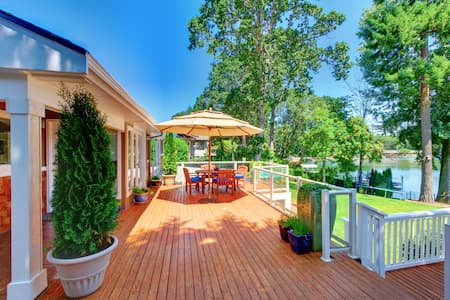 Pressure washing eliminates dirt, dust, pollen, mold, and mildew, among other contaminants, to keep your Ponte Vedra property clean. Additionally, it helps maintain the structural integrity of your external surfaces by eliminating erosion and weathering-related issues. Pressure washing may be used to clean concrete or as a prep for repainting prior to putting new coatings and is also one of the most affordable and cost-effective ways to clean the exterior of your home. It makes a big difference in terms of removing allergens and pollutants that may pose a threat to your residential or commercial property. If you need pressure washing or any other kind of cleaning in Ponte Vedra, contact the team at Kirk's Power Pressure Washing.
Roof Cleaning And Maintenance At Its Finest In Ponte Vedra
A roof is an integral component of any house, and a filthy roof may detract from the aesthetics of your home. With our pressure washing services in Ponte Vedra, we can assist you in removing dirt and contamination located on your roof. Insurance claims for water damage are expensive, and with a clean roof, you won't have to worry about throwing money away on water damage and mold removal expenses. To keep your roof looking its best, we suggest having it maintained at least once a year. If your roof is in need of cleaning, contact us now at 904-479-6404 to book an appointment and get a complimentary service assessment.
Ponte Vedra's First Choice When It Comes to House Washing Services
There are many choices available when it comes to choosing a pressure washing business in Ponte Vedra for house washing. Nonetheless, few pressure washing companies are as renowned and competent as Kirk's Power Pressure Washing. We take pleasure in offering homeowners the most effective house washing services at a reasonable price. Our experienced team works hard to ensure that each client receives high-quality home cleaning solutions that are customized to their unique requirements. We promise complete client satisfaction and the quality of our work. For house washing in Ponte Vedra, call us to make an appointment.
Recent Project in Ponte Vedra
There are currently no reviews or testimonials; check back soon!
Need a Power Washing Expert?


Contact Us Today!
Pressure Washing Tips
How to Clean Vinyl Siding the Right Way

Keeping your house exterior clean brings you peace of mind, maintains curb appeal, and keeps your siding from deteriorating at an accelerated pace. Algae and mildew hold moisture onto your siding and cause it to wear at a quicker rate and keeping these contaminants off your house keeps […]

The Dangers Of Mold On Your Home Or Business

Mold is a living organism that can be found all around us. It can appear on the exterior or interior of your home in many different forms and colors. These different molds have various effects on human health, such as toxic reactions and allergic reactions. Mold […]

Contact Kirk's Power Pressure Washing Today
Call Today For Professional Pressure Washing In Jacksonville And The Surrounding Areas!