#1 Jacksonville Commercial Pressure Washing Crew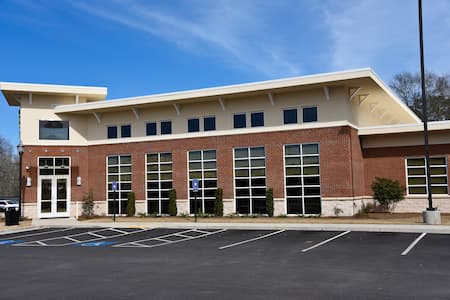 Commercial pressure washing is a great way to keep your building looking clean and new and void of unsightly dirt, mold, mildew, algae, or lichens. Our Jacksonville commercial pressure washing crew will take care of everything from driveways to concrete cleaning. With our experience and equipment, we can handle just about any commercial property no matter how large or small.
Commercial pressure washing allows business owners to save time and money by eliminating the need to handle the cleaning process themselves. When you work with us, we can do things like revive the look of your parking lot or clean your sidewalks. Contact us today to schedule a free estimate on commercial pressure washing in Jacksonville.
Exterior Surface Cleaning For Business Owners
Here at Kirk's Power Pressure Washing, we provide exterior surface cleaning services for any commercial property in and around Jacksonville. Our team of professionals can clean any type of building - from a store to an office space to a warehouse. We'll provide you with commercial cleaning services that will leave your company looking polished and professional. Your customers and employees are more than just a number. They are a vital part of any organization's success. A clean commercial property exterior can go a long way toward boosting morale and generating sales. In fact, almost 90 percent of customers will not go back to a commercial property if the exterior is dirty and unattractive. Here are just a few reasons why keeping your commercial property clean is so important:
Positive first impression: A commercial property that is clean on the outside sends a strong signal to customers and employees. A messy exterior can seem like an indication of sloppy business practices inside. A clean exterior can help to generate goodwill and trust in your company.

Safety concerns: Cleaning the exterior of commercial properties is crucial, as a dirty or dingy exterior can decrease safety for building occupants, employees, or customers. A clean exterior improves building security, especially in public areas where people may be coming and going.

Employee morale: Cleaning the commercial property exterior shows your employees that you appreciate their hard work. It also encourages them to perform their duties with a higher level of pride and enthusiasm. When employees are happy, your company is more likely to enjoy higher efficiency and productivity levels.

Sales: A clean exterior produces a positive impression on customers and leads to increased sales. Customers and potential customers always appreciate finding a clean commercial property. This is especially true for retail spaces such as restaurants, hotels, or clothing stores. A clean exterior can help to create an attractive, inviting atmosphere that encourages people to come inside and spend money! A clean exterior also makes the commercial property appear well-maintained overall, which can boost customer confidence as well as property values in the surrounding area.

Utility bills: A clean exterior will save a lot of money in the long run because it will reduce the amount of time and labor required for maintenance and repair.
If you have a commercial building that needs some sprucing up, don't hesitate to contact us for expert assistance with your exterior cleaning needs! Our team can help with any job that calls for Jacksonville pressure washing. We look forward to hearing from you soon!
Need a Power Washing Expert?


Contact Us Today!
Pressure Washing Tips
How to Clean Vinyl Siding the Right Way

Keeping your house exterior clean brings you peace of mind, maintains curb appeal, and keeps your siding from deteriorating at an accelerated pace. Algae and mildew hold moisture onto your siding and cause it to wear at a quicker rate and keeping these contaminants off your house keeps […]

The Dangers Of Mold On Your Home Or Business

Mold is a living organism that can be found all around us. It can appear on the exterior or interior of your home in many different forms and colors. These different molds have various effects on human health, such as toxic reactions and allergic reactions. Mold […]

Contact Kirk's Power Pressure Washing Today
Call Today For Professional Pressure Washing In Jacksonville And The Surrounding Areas!