Jacksonville Deck Washing Specialists - Here To Upgrade Your Outdoor Spaces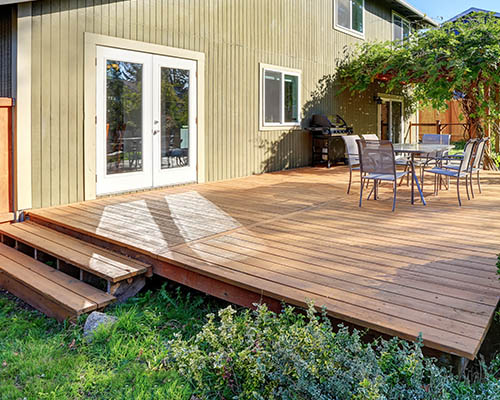 Rely on us to provide you with high-quality deck washing in Jacksonville if your deck is stained and discolored. Our staff has a thorough knowledge of exterior cleaning for both commercial and residential customers, and we will provide you with services that are second to none. We can also offer exterior house washing solutions as well as maintenance options for your fence, driveway, and other structures. We promise that you will be pleased with every service we provide because of our commitment and hard work on your behalf.
Working with an experienced deck washing company protects your investment and ensures that your deck remains attractive and healthy for many years to come. We take pride in our work and we remove the hardest filth and grime off wood decks, by utilizing high-pressure washing and chemicals in conjunction with a variety of cleaning agents. Our environmentally friendly cleaning method is the most efficient approach to restore your deck without causing damage to the wood. Contact us now to set up a deck washing appointment in Jacksonville and learn more about how we can help improve the look of your deck while also keeping it in great shape.
Patio Cleaning
Our professional patio cleaning company specializes in keeping outdoor patios and decks looking their best! If your patio is covered in dirt and stains, it can take away from the appearance of your home. Many people may not be aware that wood and composite deck cleaning is necessary, especially during seasons when the patio is being used more often, such as summertime. For your own convenience, it may be a good idea to get your patios cleaned routinely so you can continue to enjoy them throughout all seasons.
We advise customers to get their decks washed at least twice per year to keep them looking as good as new. Choosing our team for your deck washing needs will ensure that you have a deck that your family and friends can enjoy. Our Jacksonville pressure washing services are dependable, timely, and economically friendly. We offer free estimates so you can receive a detailed quote on your patio cleaning without any surprise fees. For more information or to get a free estimate, call our experts at 904-479-6404.
Our Deck Washing Projects
Need a Power Washing Expert?


Contact Us Today!
Pressure Washing Tips
How to Clean Vinyl Siding the Right Way

Keeping your house exterior clean brings you peace of mind, maintains curb appeal, and keeps your siding from deteriorating at an accelerated pace. Algae and mildew hold moisture onto your siding and cause it to wear at a quicker rate and keeping these contaminants off your house keeps […]

The Dangers Of Mold On Your Home Or Business

Mold is a living organism that can be found all around us. It can appear on the exterior or interior of your home in many different forms and colors. These different molds have various effects on human health, such as toxic reactions and allergic reactions. Mold […]

Contact Kirk's Power Pressure Washing Today
Call Today For Professional Pressure Washing In Jacksonville And The Surrounding Areas!