St. Marys Pressure Washing Services You Can Depend On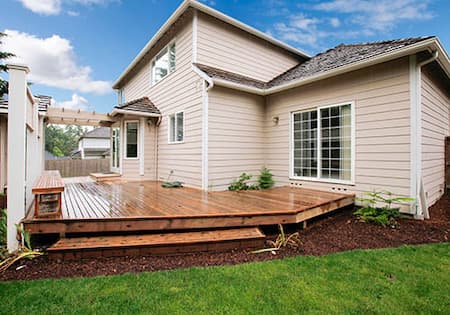 Do you plan on selling your home soon? Do you desire to have a home that is clean, neat, and bright? Our pressure washing specialists in St. Marys are waiting to assist you! If rust, dirt, mold, mildew, or algae are destroying the look of your house, it may be time to hire experts to pressure wash it. We specialize in removing stubborn stains, particularly from driveways and other hard surfaces. We understand the importance of a clean home and want to assist you in making your property seem brand new. Kirk's Power Pressure Washing is the company to call for pressure washing services in St. Marys. Contact us now, and we'll give you a free quote!
Providing St. Marys homeowners With Reliable Roof Cleaning Services
Because the majority of homeowners lack the equipment and knowledge required to clean their own roofs, they rely on pressure washing businesses such as Kirk's Power Pressure Washing to provide them with quality roof cleaning services. By hiring a professional, homeowners may prevent costly roof repairs while preserving the structural integrity of their roof. You can also prevent mold and mildew development by using the services of a professional cleaning team that is knowledgeable about proper roof cleaning techniques. Contact our company today to get a free cleaning quote for all of your St. Marys soft-washing and pressure washing needs.
St. Marys Exterior House Washing At Its Best
Due to the weather and everyday usage, a house is always exposed to filth, dust, and debris, and our team at Kirk's Power Pressure Washing can rapidly remove this buildup. There are many benefits to pressure washing the outside of your house, including the ability to:
Remove stains from brick surfaces

Ensure wood paneling or drywall doesn't have mold or mildew

Remove fading and chipping paint

Deep clean your home's siding to remove any algae or sap buildup

And much more
When it comes to pressure washing your house, we take just as much care as you do, which is why we meticulously clean the entire surface. Whatever the scope of your project, each member of our team is experienced, bonded, and insured for general liability, and they will work safely and professionally. In addition, our reasonable rates ensure that you won't go over your home maintenance budget, so contact us now for a free quote on any of the exterior cleaning services we do at Kirk's Power Pressure Washing.
There are currently no reviews or testimonials; check back soon!
Need a Power Washing Expert?


Contact Us Today!
Pressure Washing Tips
How to Clean Vinyl Siding the Right Way

Keeping your house exterior clean brings you peace of mind, maintains curb appeal, and keeps your siding from deteriorating at an accelerated pace. Algae and mildew hold moisture onto your siding and cause it to wear at a quicker rate and keeping these contaminants off your house keeps […]

The Dangers Of Mold On Your Home Or Business

Mold is a living organism that can be found all around us. It can appear on the exterior or interior of your home in many different forms and colors. These different molds have various effects on human health, such as toxic reactions and allergic reactions. Mold […]

Contact Kirk's Power Pressure Washing Today
Call Today For Professional Pressure Washing In Jacksonville And The Surrounding Areas!