Fence Washing To Revitalize Your Jacksonville Property's Perimeter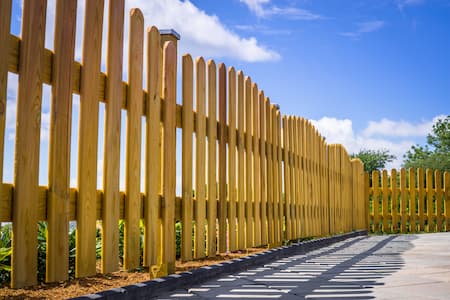 It's not necessary to spend a lot of time and effort cleaning your fence from dirt and surface stains. Hire the best-rated pressure washing company in Jacksonville to take care of all of your fence washing requirements. Our team can clean up unsightly dirt from your fence, and you can be certain that the job will be done properly the first time around. We use only the most sophisticated cleaning methods to remove mildew, dirt, and other particles that may distract from your fence's new, bright look, and we use only environmentally friendly cleaning products.
The difference between having your fence cleaned with pressure washing will be seen immediately. Your fence will look beautiful and clean, immediately enhancing the attractiveness of your home and increasing its value.
Like deck washing, fence washing is essential since it surrounds your residential home and is often the first aspect of your property that a guest sees when they arrive. To restore the natural beauty of your fence, contact one of our professionals to schedule a fence washing appointment for your Jacksonville home or business. With our excellent pressure washing services, we will ensure that your property maintains its pristine appearance.
Wood Fence Cleaning
If you own a fence in Jacksonville, you're probably well aware when it's beginning to show symptoms of wear and tear. One way to tell is if it's covered in moss, mildew, or stains. If you have an older wood fence that has been neglected, pressure washing it will prolong its life and make it more attractive. Our team can repair the look of your ancient wooden fence with expert fence cleaning services. Wood fences, as compared to other types of fences, may be more difficult to maintain in terms of cleanliness. As a result, dirt and degradation build over time and break down the integrity of the wood. However, when you opt for fence washing, you remove unsightly stains and breathe new life into the overall appearance of your home's exterior.
Untidy, aged wood fences are not visually appealing. Furthermore, they constitute a health hazard since untreated wood decays with time, especially when exposed to the elements. The growth of mold, fungus, and vermin in decaying wood poses a threat to everyone who comes into contact with it, including visitors, children, and animals, and should be avoided at all costs. The decomposition of wood has an impact on the fence's structure and long-term endurance as well. Fence washing will extend the life of your wood fence by many decades. We offer pressure washing for Jacksonville home and business owners, so give us a call for a free estimate on our fence washing solutions.
Need a Power Washing Expert?


Contact Us Today!
Pressure Washing Tips
How to Clean Vinyl Siding the Right Way

Keeping your house exterior clean brings you peace of mind, maintains curb appeal, and keeps your siding from deteriorating at an accelerated pace. Algae and mildew hold moisture onto your siding and cause it to wear at a quicker rate and keeping these contaminants off your house keeps […]

The Dangers Of Mold On Your Home Or Business

Mold is a living organism that can be found all around us. It can appear on the exterior or interior of your home in many different forms and colors. These different molds have various effects on human health, such as toxic reactions and allergic reactions. Mold […]

Contact Kirk's Power Pressure Washing Today
Call Today For Professional Pressure Washing In Jacksonville And The Surrounding Areas!