Complete Concrete Cleaning For Your Jacksonville Pavement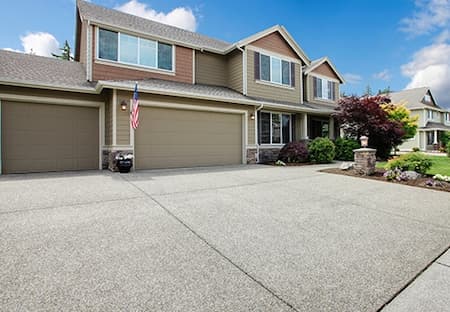 At Kirk's Power Pressure Washing, we provide premium concrete cleaning in Jacksonville that offers the latest and most innovative techniques to get any concrete looking like new. We are the best in our industry. We have a history of striving for perfection and excellence with every project that we complete. From a residential house, commercial building, or industrial plant, we have solutions for all your concrete cleaning needs. Whether your concrete is stained, faded, moldy, or just discolored from the elements, we have the right concrete cleaning solution for you.
Our focus is always on providing quality service at reasonable prices and pleasing our customers. We are proud to say that our staff has received an outstanding reputation for being organized, efficient, and accountable. We like to ensure that each job exceeds a high standard of excellence where each project is completed on time and every detail is clean and precise. We are knowledgeable in all aspects of pressure washing including state-of-the-art equipment and techniques that guarantee an efficient clean process with minimal disruption to you while getting rid of any unwanted contaminants. If you're looking for a concrete cleaning company in Jacksonville that has the knowledge, experience, and equipment to provide you with a complete, professional service then please contact us today.
Pavement Pressure Washing
We are fully knowledgeable when it comes to pavement pressure washing for your property and our experience with Jacksonville pressure washing allows us to deal with any problem that arises during your project promptly. We offer efficient service that many clients appreciate. Our emphasis is on providing a job carried out to the highest standard and leaving your property looking its best. The process of pressure washing involves moving the water hose around your property at low pressure to ensure that there is no disruption to traffic or pedestrians during our work, and removing debris and any other rubbish from your pavement. We are fully licensed, insured, and bonded. The work we do consists of more than just pavement pressure washing and includes sidewalk cleaning, house washing, and more. No matter what you need, we are the company that can assist you. Call us today for a free estimate.
Need a Power Washing Expert?


Contact Us Today!
Pressure Washing Tips
How to Clean Vinyl Siding the Right Way

Keeping your house exterior clean brings you peace of mind, maintains curb appeal, and keeps your siding from deteriorating at an accelerated pace. Algae and mildew hold moisture onto your siding and cause it to wear at a quicker rate and keeping these contaminants off your house keeps […]

The Dangers Of Mold On Your Home Or Business

Mold is a living organism that can be found all around us. It can appear on the exterior or interior of your home in many different forms and colors. These different molds have various effects on human health, such as toxic reactions and allergic reactions. Mold […]

Contact Kirk's Power Pressure Washing Today
Call Today For Professional Pressure Washing In Jacksonville And The Surrounding Areas!